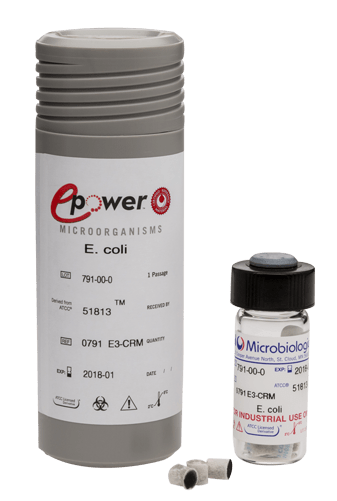 Bacillus subtilis subsp. spizizenii derived from ATCC® 6633™
Product code : MIC.0486E3 MIC.0486E3

Via de knop "offerte aanvraag" kan u vrijblijvend contact met ons opnemen voor verdere informatie.
Bacillus subtilis subsp. spizizenii derived from ATCC® 6633™
Product beschrijving
Epower is the embodiment of "flexibility is your friend". You'll love the versatility of simply using one product for all of your QC needs – from media QC and presence/absence testing to enumeration testing, water testing, and disinfectant testing. Use a single strain or combine multiple strains for a mixed population. Each quantitative microorganism pellet delivers a specific range of CFU, so you can easily manipulate Epower to deliver virtually any concentration. We know you'll appreciate the ease and adaptability that Epower offers.
The ultimate in authenticity. Epower CRM quantitative quality control microorganisms are just one passage from the reference strain. If your lab is ISO 17025 accredited, Epower CRM can help you meet the requirements of Section 5.6.3.2 regarding reference materials. This product offers plenty of flexibility, which is a huge benefit in the lab. Each microorganism pellet has a pre-determined range of CFUs, so you can easily manipulate the product to deliver your desired concentration. You can also create a mixed microorganism population by combining multiple Epower CRM strains.
Highlights for Epower
Available in concentrations ranging from 102 and 108 CFU per pellet
Strains are less than or equal to three passages from reference culture
Can be combined for a mixed microorganism population
Easily manipulated to deliver a wide variety of concentrations
Ready-to-use format to save you time and money
Refrigerated storage is easy and economical
Traceability to reference cultures ensures authenticity
Online Certificate of Analysis provides detailed strain information
experts available for guidance
Product warranty
Highlights for Epower CRM
Quantitative QC microorganisms one passage from the reference strains for ultimate authenticity
For Testing Laboratories, Section 5.6.3.2 of ISO 17025:2005 states: "Reference materials shall, where possible, be traceable to SI units of measurements, or to Certified Reference Materials."
Available in concentrations ranging from 102 and 108 CFU per pellet
Can be combined for a mixed microorganism population
Easily manipulated to deliver a wide variety of concentrations
Ready-to-use format to save you time and money
Refrigerated storage is easy and economical
Traceability to reference cultures ensures authenticity
experts available for guidance
Product warranty
Bacillus subtilis subsp. spizizenii derived from ATCC® 6633™
Product specificaties
Vial of 10 quantitated lyophilized pellets
Quantitative Preparations at a concentration of 1.0-9.9E+03 CFU per pellet
Standards and Guidelines (if any)
Food Safety,Water and Environmental
Stock temperature condition
Bacillus subtilis subsp. spizizenii derived from ATCC® 6633™
Product documenten
Notify