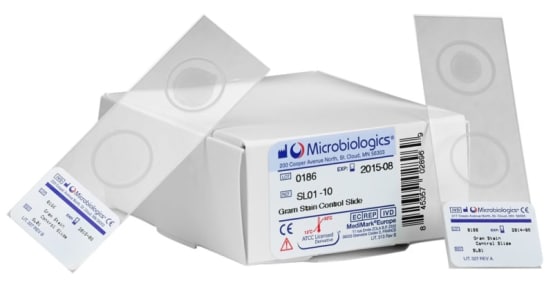 Zinc PVA-Preserved Fecal Smear Control
Product code : MIC.SL10-10
MIC.SL10-10

Via de knop "offerte aanvraag" kan u vrijblijvend contact met ons opnemen voor verdere informatie.
Zinc PVA-Preserved Fecal Smear Control
Product beschrijving
Microscopy staining is a tried and true method for examining the cellular morphology of microorganisms. Laboratory best practices should include quality control measures to ensure that staining materials and processes are producing accurate results. We offer a variety of QC Microbiology Slides containing droplets of an air-dried, fixed and preserved organism, or a smear containing a designated organism population.
Highlights
Convenient test ready format saves you time and money
Room temperature storage is easy and economical
Technical Support experts available for guidance
Zinc PVA-Preserved Fecal Smear Control
Product specificaties
This quality control slide provides an air-dried, Zinc PVA-preserved, fecal smear containing a representative intestinal protozoa, usually Giardia lamblia.
Microscopy: Quality Control Slides
Clinical,Education,Food Safety,Household and Industrial Products,Medical Devices,Nutraceutical/Dietary Supplements,Personal Care Products/Cosmetics,Pharmaceutical,Research,Water and Environmental
Stock temperature condition
Zinc PVA-Preserved Fecal Smear Control
Product documenten
Notify