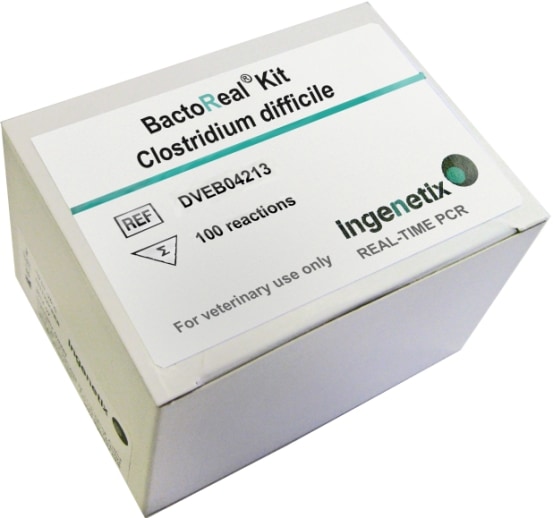 BactoReal® Kit Clostridium difficile
Product code : ING.DVEB04213 ING.DVEB04213
BactoReal® Kit Clostridium difficile is based on the amplification and detection of the Clostridium difficile toxin A (tcdA) gene and Clostridium difficile toxin B (tcdB) gene of C. difficile using multiplex real-time PCR. The tcdA gene is…

Via de knop "toevoegen aan verlanglijst" kan u vrijblijvend contact met ons opnemen voor verdere informatie.
BactoReal® Kit Clostridium difficile
Product beschrijving
Kit contents:
Detection assay for Clostridium difficile toxin A and B
Detection assay for internal positive control (control of amplification)
DNA reaction mix (contains uracil-N glycosylase, UNG)
Positive control for C. difficile
Water
Background: Clostridium difficile is a gram-positive spore-forming anaerobic bacterium which is commonly found in low concentrations in the intestine of clinically normal animals and humans. In higher concentration Clostridium difficile is an important cause of diarrhea in neonatal swine. Affected piglets may have dyspnea, abdominal distention, and scrotal edema. Diarrhea may not be present in all pigs affected. Pathogenic C. difficile strains produce multiple toxins. The best characterized are enterotoxin (Clostridium difficile toxin A causing fluid secretion into the gut lumen) and cytotoxin (Clostridium difficile toxin B), both of which may produce diarrhea and inflammation. Clostridium difficile infection (CDI) is also a major cause of nosocomial antibiotic-associated infectious diarrhea and pseudomembranous colitis in humans.
Description: BactoReal® Kit Clostridium difficile is based on the amplification and detection of the Clostridium difficile toxin A (tcdA) gene and Clostridium difficile toxin B (tcdB) gene of C. difficile using multiplex real-time PCR. The tcdA gene is detected in VIC/HEX channel. The tcdB gene is detected in FAM channel.
PCR-platforms: BactoReal® Kit Clostridium difficile is developed and validated for the ABI PRISM® 7500 instrument (Life Technologies), LightCycler® 480 (Roche) and Mx3005P® QPCR System (Agilent), but is also suitable for other real-time PCR instruments.
Sensitivity and specificity: See product description
BactoReal® Kit Clostridium difficile
Product specificaties
Stock temperature condition
Channel Internal Positive Control
BactoReal® Kit Clostridium difficile
Product documenten
Notify