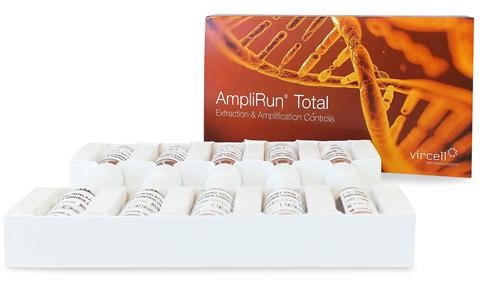 AMPLIRUN® TOTAL SARS-CoV-2 CONTROL (SWAB)
Product code : VIR.MBTC030
VIR.MBTC030
Inactivated SARS-CoV-2 cells formulated in viral transport medium to validate and control molecular analyses for the diagnosis of COVID-19

Via de knop "toevoegen aan verlanglijst" kan u vrijblijvend contact met ons opnemen voor verdere informatie.
AMPLIRUN® TOTAL SARS-CoV-2 CONTROL (SWAB)
Product beschrijving
Inactivated SARS-CoV-2 cells and formulated in viral transport medium to validate and control molecular analysis for the diagnosis of COVID-19
External quality control in the detection of nucleic acids
Inactivated complete microorganism in a matrix
Validation of the complete analytical process: extraction and amplification
Quantified control (low positive)
10 vials in lyophilized presentation
The use of AmpliRun® Total Controls will allow:
Certify the quality of the entire process: extraction and amplification.
Monitor all aspects related to the sample and the performance of the instrument in the long term.
Monitor for variations in laboratory procedures, including batches of test reagents.
Guarantee reproducibility in diagnosis, avoiding the risk of using infectious agents.
Validate and verify new tests.
Obtain reliable and comparable results.
Train laboratory personnel.
Take corrective actions and detect dubious results.
Meet the laboratory accreditation requirements.
AMPLIRUN® TOTAL SARS-CoV-2 CONTROL (SWAB)
Product specificaties
AmpliRun® Total , Extraction & PCR Controls
Notify